The Neurobiology of Vitality & Recognition
A 2 hour video seminar originally presented in Lexington, MA on April 8, 2016.
---
Dopamine plays a central role in motivation, new learning, and memory reconsolidation.  It also underlies the zest and exuberance fueling play and exploration, as well as the vitally important felt sense of aliveness. Yet the role of dopamine in trauma treatment, especially in the treatment of dissociation, has not yet been explored. In this course, Diana Fosha does just that. She unfolds her original, cutting-edge understanding of how recognition and the exploration of glimmers of core self can make a powerful contribution to the treatment of dissociation, systematically harnessing dopamine-mediated experiences.
In this course Fosha reviews the neurobiology of vitality and the importance of recent advances in the understanding of the neurobiological core self (Damasio, Panksepp), and its being intimately linked with dopaminergic pathways. Together with AEDP work on the co-creation of relational safety and recognition processes (Fosha), these constitute powerful elements for a neurobiologically based psychotherapeutic process that aims to work with dissociative phenomena. It is how, in the course of trauma processing, vitality and energy can be brought into the previously depleted system. Feelings of exuberance and curiosity and the motivation to act on behalf of the self are dopamine mediated experiences and they can power both new learning and greater memory reconsolidation. You will also be able to understand how recognition processes can be used to bypass the experience of fragmentation of self. By making the most of experiences marked by "the click of recognition," therapists can help clients who usually rely on dissociative mechanisms to access, even if briefly, a new "whole self" experience accompanied by positive affect.
---
Meet the Presenter
Diana Fosha, PhD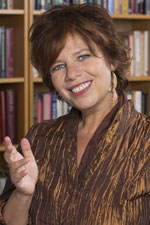 Diana Fosha, Ph.D., is the developer of AEDP (Accelerated Experiential Dynamic Psychotherapy), a healing-based, transformation-oriented model of psychotherapeutic treatment; she is Founder and Director of the AEDP Institute. Based in New York City, she has been on the faculties of the Departments of Psychiatry and Psychology of NYU and St. Luke's/Roosevelt Medical Centers (now Mount Sinai) in NYC, and of the doctoral programs in clinical psychology at the Derner Institute for Advanced Psychological Studies and The City University of New York. Diana Fosha is the author of The Transforming Power of Affect: A Model for Accelerated Change (Basic Books, 2000), and of numerous articles on an attachment-emotion-transformation focused experiential treatment model. She is senior editor, with Daniel Siegel and Marion Solomon, of The Healing Power of Emotion: Affective Neuroscience, Development & Clinical Practice (Norton, 2009), part of Norton's Interpersonal Neurobiology series, and co-author, with Natasha Prenn, of Essentials of AEDP Supervision (APA, 2016). APA has issued 3 DVDs of her APA work. [Learn more and purchase here.]
She has contributed chapters to, among others, Clinical pearls of wisdom: 21 leading therapists offer their key insights, edited by M. Kerman (Norton, 2009); Complex traumatic stress disorders: An evidence-based clinician's guide, edited by C. Courtois & J. D. Ford (Guilford, 2009);   Healing trauma: Attachment, mind, body and brain, edited by Marion Solomon and Daniel Siegel (Norton, 2003); and to The comprehensive handbook of psychotherapy, Volume 1: Psychodynamic and object relations therapies, edited by J. J. Magnavita (Wiley, 2002).
Dr. Diana Fosha graduated magna cum laude with a BA in psychology from Barnard College and received her PhD in clinical psychology from the City university of New York (CUNY). For the last 20 years, she has been active in promoting a scientific basis for a healing oriented attachment, emotion and transformation focused therapy.
Known for her powerful, precise yet simultaneously poetic and evocative affective writing style, Diana's phrases --- "undoing aloneness," "existing in the heart and mind of the other," "True Other," "make the implicit explicit and the explicit experiential," "stay with it and stay with me," "rigor without shame" and "judicious self-disclosure" -- capture the ethos of AEDP.
Watch Diana's Trusting Vitality video here.
---
Fees, Credits and Registration:
$49
$39  Members only (must be logged in)
Upon completing registration you will be given the link and a password to a protected website page where you can watch the 2 hour seminar video online at any time.
Please do not share this link or password
Continue to Register
Only paid seminar registrants will be eligible to purchase CE credits through R. Cassidy Seminars.
This is a pre-recorded on-demand Distance Learning Video, which is considered a home study course. If you would like to earn 2 CEs for the course  a  test must be taken after watching the video.
There is a $15 fee associated with taking the test to earn your certificate. Upon completing the video there will be a link to take the test for CE.
The NYSED has asked its providers to remind New York Licensees that only 12 Home Study contact hours are allowed per license renewal period. The remainder of your required contact hours must be live courses.
Questions about this course? Contact Us